Wednesday, July 30, 2014
From KurzweilAI:
Vanderbilt University researchers have discovered that engineered probiotic bacteria ("friendly" bacteria like those in yogurt) in the gut produce a therapeutic compound that inhibits weight gain, insulin resistance, and other adverse effects of a high-fat diet in mice. "Of course it's hard to speculate from mouse to human," said senior investigator Sean Davies, Ph.D., assistant professor of Pharmacology. "But essentially, we've prevented most of the negative consequences of obesity in mice, even though they're eating a high-fat diet."
The findings published in the August issue of the Journal of Clinical Investigation (open access) suggest that it may be possible to manipulate the bacterial residents of the gut — the gut microbiota — to treat obesity and other chronic diseases. Davies has a long-standing interest in using probiotic bacteria to deliver drugs to the gut in a sustained manner, in order to eliminate the daily drug regimens associated with chronic diseases. In 2007, he received a National Institutes of Health Director's New Innovator Award to develop and test the idea. Other studies have demonstrated that the natural gut microbiota plays a role in obesity, diabetes and cardiovascular disease. "The types of bacteria you have in your gut influence your risk for chronic diseases," Davies said. "We wondered if we could manipulate the gut microbiota in a way that would promote health."
More here.


Posted by Azra Raza at 07:07 AM | Permalink | Comments
Comete


Uphill in Melbourne on a beautiful day
a woman is walking ahead of her hair.
Like teak oiled soft to fracture and sway
it hung to her heels and seconded her
as a pencilled retinue, an unscrolling title
to ploughland, edged with ripe rows of dress,
a sheathed wing that couldn't fly her at all,
only itself, loosely, and her spirits.
                                   A largesse 
of life and self, brushed all calm and out,
its abstracted attempts on her mouth weren't seen,
not its showering, its tenting.  Just the detail
that swam in its flow-lines, glossing about—
as she paced on, comet-like, face to the sun.

by Les Murray
from Subhuman Redneck Poems, 1996


Posted by Jim Culleny at 06:29 AM | Permalink | Comments
Farrah Hassen in Foreign Policy in Focus (Photo: UNHCR Photo Unit / Flickr):
While filming a documentary in Syria in the summer of 2003, I visited the Jaramana refugee camp near Damascus. Run by the UN Relief and Works Agency for Palestine, Jaramana at the time housed around 5,000 registered Palestinian refugees from the Arab-Israeli wars of 1948 and 1967 and their descendants.
At Jaramana, rows of decaying homes slightly larger than office cubicles lined newly built roads. The flurry of young children playing tag, teenage boys riding rusty bicycles down the cramped streets, and the commanding shriek of babies injected some color into a landscape otherwise dominated by the grayish hues of stone edifices and smoke emanating from burnt trash. Like a Rembrandt painting, the Damascus sun's unforgiving rays bounced across concrete walls, casting shadows of uncertainty over the elderly and young Palestinians alike.
Up until that point, I had not comprehended the mix of courage, desperation, and determination demanded by refugees. Neither could I conceptualize the scope of the challenges faced both by humanitarian aid groups struggling to deliver aid to the refugees and the countries struggling to host them.
Eleven years later, Syria—a host country to 540,000 Palestinian refugees and, at its peak in 2007, 1.5 million Iraqi refugees—now faces its own refugee crisis after over three years of bloody civil war.
The number of Syrian refugees and internally displaced persons (IDPs) already rivals the scale of the displaced in countries like Afghanistan and Somalia, which have endured much longer-running conflicts. According to the UN High Commissioner for Refugees (UNHCR), more than 2.8 million refugees have fled Syria for nearby countries, including Jordan, Lebanon, Egypt, and Turkey. 6.5 million remain internally displaced.
With a total population of 22 million, that means that nearly half of the Syrian population has been displaced by war since March 2011. In fact, within a span of five years, Syria has moved from being the world's second-largest host of refugees to the second-largest producer of them.
If they're still alive, the Palestinian families I spoke with in Jaramana have had to endure a deluge of bombs, guns, and tanks unleashed by rebel groups and regime forces alike. Or they may have fled their homes, yet again, to a neighboring country. Like their Iraqi counterparts in Syria, they face the reality of becoming double refugees, adding to their heightened insecurity as already displaced people.
Meanwhile, the countries that have absorbed Syria's refugees are straining at the seams.
More here.


Posted by Robin Varghese at 05:27 AM | Permalink | Comments
Christian Rudder in the OKCupid blog:
All dating sites let users rate profiles, and OkCupid's original system gave people two separate scales for judging each other, "personality" and "looks."
I found this old screenshot. The "loading" icon over the picture pretty much sums up our first four years. Anyhow, here's the vote system:
Our thinking was that a person might not be classically gorgeous or handsome but could still be cool, and we wanted to recognize that, which just goes to show that when OkCupid started out, the only thing with more bugs than our HTML was our understanding of human nature.
Here's some data I dug up from the backup tapes. Each dot here is a person. The two scores are within a half point of each other for 92% of the sample after just 25 votes (and that percentage approaches 100% as vote totals get higher).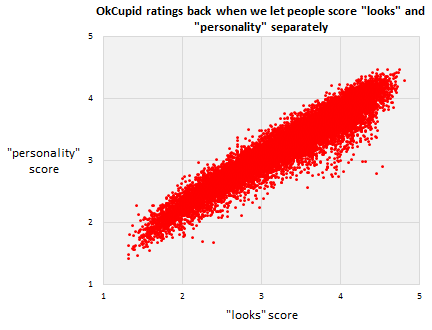 In short, according to our users, "looks" and "personality" were the same thing, which of course makes perfect sense because, you know, this young female account holder, with a 99th percentile personality: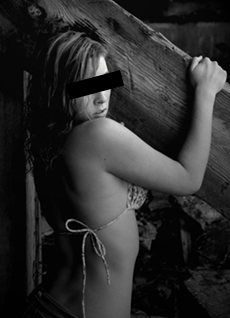 …and whose profile, by the way, contained no text, is just so obviously a really cool person to hang out and talk to and clutch driftwood with.
After we got rid of the two scales, and replaced it with just one, we ran a direct experiment to confirm our hunch—that people just look at the picture. We took a small sample of users and half the time we showed them, we hid their profile text. That generated two independent sets of scores for each profile, one score for "the picture and the text together" and one for "the picture alone." Here's how they compare. Again, each dot is a user. Essentially, the text is less than 10% of what people think of you.
More here.


Posted by Robin Varghese at 04:26 AM | Permalink | Comments
An exchange on capital, debt, and the future between David Graeber and Thomas Piketty in The Baffler (image: © C.K. Wilde):
Moderators: Is capitalism itself the cause of the problem, or can it be reformed?
Piketty: One of the points that I most appreciate in David Graeber's book is the link he shows between slavery and public debt. The most extreme form of debt, he says, is slavery: slaves belong forever to somebody else, and so, potentially, do their children. In principle, one of the great advances of civilization has been the abolition of slavery.
As Graeber explains, the intergenerational transmission of debt that slavery embodied has found a modern form in the growing public debt, which allows for the transfer of one generation's indebtedness to the next. It is possible to picture an extreme instance of this, with an infinite quantity of public debt amounting to not just one, but ten or twenty years of GNP, and in effect creating what is, for all intents and purposes, a slave society, in which all production and all wealth creation is dedicated to the repayment of debt. In that way, the great majority would be slaves to a minority, implying a reversion to the beginnings of our history.
In actuality, we are not yet at that point. There is still plenty of capital to counteract debt. But this way of looking at things helps us understand our strange situation, in which debtors are held culpable and we are continually assailed by the claim that each of us "owns" between thirty and forty thousand euros of the nation's public debt.
This is particularly crazy because, as I say, our resources surpass our debt. A large portion of the population owns very little capital individually, since capital is so highly concentrated. Until the nineteenth century, 90 percent of accumulated capital belonged to 10 percent of the population. Today things are a little different. In the United States, 73 percent of capital belongs to the richest 10 percent. This degree of concentration still means that half the population owns nothing but debt. For this half, the per capita public debt thus exceeds what they possess. But the other half of the population owns more capital than debt, so it is an absurdity to lay the blame on populations in order to justify austerity measures.
But for all that, is the elimination of debt the solution, as Graeber writes? I have nothing against this, but I am more favorable to a progressive tax on inherited wealth along with high tax rates for the upper brackets. Why? The question is: What about the day after? What do we do once debt has been eliminated? What is the plan? Eliminating debt implies treating the last creditor, the ultimate holder of debt, as the responsible party. But the system of financial transactions as it actually operates allows the most important players to dispose of letters of credit well before debt is forgiven. The ultimate creditor, thanks to the system of intermediaries, may not be especially rich. Thus canceling debt does not necessarily mean that the richest will lose money in the process.
More here.


Posted by Robin Varghese at 03:01 AM | Permalink | Comments
Kaitlin Solimine in Hippo Reads
In the aftermath of the Malaysia Air Ukraine incident, one thing was clear: the damage ran deep. But beyond the obvious and important political scope, what is the responsibility of media outlets when covering the tragedy?
A day after the incident, the New York Times ran this front page piece about the airplane's "trail of debris." Rather than focusing solely on the investigation efforts and/or the deeply historical politics, the NYT piece spent a majority of its word count detailing the gruesome remains of those who were traveling on Malaysia Air Flight 17—including what the victims were wearing, the posturing of their bodies, and even the name addressed on a parking ticket found in the debris.
There's no doubt that a war's reach is horrific. In Man's Search for Meaning, Viktor Frankl writes about his experience as a psychiatrist imprisoned in Auschwitz, and the complications of documenting the horrors of a concentration camp:
"To attempt a methodological presentation of the subject is very difficult, as psychology requires a certain scientific detachment. But does a man who makes his observations while he himself is a prisoner possess the necessary detachment? Such detachment is granted to the outsider, but he is far too removed to make any statements of real value. Only the man inside knows. His judgments may not be objective; his evaluations may be out of proportion. This is inevitable."
How are journalists to document an experience in which they may be an integral part while also possessing the "necessary detachment" of reportage?
More here.


Posted by Robin Varghese at 01:15 AM | Permalink | Comments
Tuesday, July 29, 2014
An excerpt from a new book by 3QD friend Laura Raicovich. " Diary of Mysterious Difficulties was borne out of spam received over a period of several months. These emails circumvented spam filters by including odd texts beneath image-based ads for Viagra, Cialis and penis enlargement. As the same proper names continually surfaced, it seemed likely that these excerpts were taken from a longer text. In fact, they were lifted from Charles Dickens's David Copperfield. These bits of text, once a Dickens novel, are reworked, strung together, and augmented to create a spy-story/melodramatic romance novel."
Two days later
Dora drained her second Pepsi and held the empty plastic bottle between her and him. She said,
"Listen very carefully, Paul, and don't interrupt, because I don't know how much time I have. By the time they come, you should be back in your own room, snug as a bug in a rug. Why worry? If you worry - you die. If you don't worry - you'll still die. So why worry? Where one door shuts, another opens. A loaded wagon makes no noise."
On these occasions she would typically take Maugham along, her long-haired dachshund. Well, not strictly "hers" – he too was borrowed from a "friend" for appearance-sake. While rarely did she read to him, he loved it and often reminded her of it when they were at the café together. But today was more serious. For Dora, being outside again, needing to convey what was necessary to the man across the table, was too great an experience to allow much concentration on other things.
Suddenly, Paul cried out, and embraced her, as he had that day in Liverpool, when it seemed certain that the pirates had taken her away as Mad Jack had sworn they would. Then Dora realized she was going too fast—it was tough being out of practice. She shifted gears and explained,
"Now listen closely, my friend…each Saturday, Francis and I would go to the movies. While I always used to enjoy the newsreel and the color cartoons and the feature, what I really looked forward to was the next installment of the chapter-play. That was my New Testament. It brought a sense of regularity into my chaotic world to see the story unfold over the weeks. Haste makes waste, I always thought. And besides, who ever wants a good story to end?!"
Dora then fed him a series of proverbs he took for code,
"Keep your eyes on the sun and you will not see the shadows. He who laughs last laughs longest. Just go with it," She threw in a reference to the Trojan Horse and continued,
"Honesty is the best policy. After dinner sit a while, after supper walk a mile. You are responsible for you. If wishes were horses, pigs would fly. Desperate times call for desperate measures. A watched pot never boils."
Continue reading "From A Diary of Mysterious Difficulties"


Posted by Robin Varghese at 02:56 PM | Permalink | Comments
Bhakti Shringarpure in The Guardian:
Fanon's posthumously published The Wretched of the Earth has often been viewed as a call to violent action against the coloniser, as a radical militant anthem for all oppressed peoples, and as a deeply controversial ideology of resistance.
Terminably ill with cancer and fully aware that this was to be his legacy, it seemed that this book was his attempt to make a larger contribution towards a theory about colonialism in the African continent. It was in the anxious haste of a prodigal 10 weeks in which Fanon composed and dictated The Wretched of the Earth to his wife, Josie.
Though Fanon was a spokesperson for Algeria's National Liberation Front (FLN), an ardent radical writer for the revolutionary Algerian newspaper El Moujahid, a psychiatrist for fighters and tortured combatants and a staunch critic of the French left, his posthumous fame became focused on his one singular observation about violence during decolonisation.
He wrote that decolonisation "fundamentally alters" the colonised man's sense of self: "It infuses a new rhythm, specific to a new generation of men, with a new language and new humanity. Decolonisation is truly the creation of new men."
This observation about the new men formed through the use of violence has been consistently viewed as a detrimental and dangerous idea. The Wretched of the Earth was banned in France as soon as it came out and copies were seized from bookstores. Prominent French left-leaning intellectuals of the time, such as Jean Daniel, author of La Blessure, and Jean-Marie Domenach, editor of Espirit, were disgusted by Fanon's theories on violence and felt that they reeked of revenge.
But according to Fanon, colonial violence begins with the coloniser, who "does not alleviate oppression or mask domination. He displays and demonstrates them with the clear conscience of the law enforcer, and brings violence into the homes and minds of the colonised subject." During decolonisation, it is this unchecked, destructive and tireless violence that is "appropriated" by the colonised.
More here.


Posted by Robin Varghese at 02:44 PM | Permalink | Comments
Julia Amalia Heyer interviews Yuval Diskin, in Spiegel (photo: Reuters):
SPIEGEL: What about Israel talking directly with Hamas?
Diskin: That won't be possible. Really, only the Egyptians can credibly mediate. But they have to put a more generous offer on the table: the opening of the border crossing from Rafah into Egypt, for example. Israel must also make concessions and allow more freedom of movement.
SPIEGEL: Are those the reasons why Hamas provoked the current escalation?
Diskin: Hamas didn't want this war at first either. But as things often are in the Middle East, things happened differently. It began with the kidnapping of three Israeli teenagers in the West Bank. From what I read and from what I know about how Hamas operates, I think that the Hamas political bureau was taken by surprise. It seems as though it was not coordinated or directed by them.
SPIEGEL: Netanyahu, though, claimed that it was and used it as a justification for the harsh measures against Hamas in the West Bank, measures that also targeted the joint Hamas-Fatah government.
Diskin: Following the kidnapping of the teenagers, Hamas immediately understood that they had a problem. As the army operation in the West Bank expanded, radicals in the Gaza Strip started launching rockets into Israel and the air force flew raids into Gaza. Hamas didn't try to stop the rockets as they had in the past. Then there was the kidnapping and murder of the Palestinian boy in Jerusalem and this gave them more legitimacy to attack Israel themselves.
SPIEGEL: How should the government have reacted instead?
Diskin: It was a mistake by Netanyahu to attack the unity government between Hamas and Fatah under the leadership of Palestinian President Mahmoud Abbas. Israel should have been more sophisticated in the way it reacted. We should have supported the Palestinians because we want to make peace with everybody, not with just two-thirds or half of the Palestinians. An agreement with the unity government would have been more sophisticated than saying Abbas is a terrorist. But this unity government must accept all the conditions of the Middle East Quartet. They have to recognize Israel, renounce terrorism and recognize all earlier agreements between Israel and the Palestinians.
SPIEGEL: The possibility of a third Intifada has been mentioned repeatedly in recent days, triggered by the ongoing violence in the Gaza Strip.
Diskin: Nobody can predict an Intifada because they aren't something that is planned. But I would warn against believing that the Palestinians are peaceful due to exhaustion from the occupation. They will never accept the status quo of the Israeli occupation. When people lose hope for an improvement of their situation, they radicalize.
More here.


Posted by Robin Varghese at 02:35 PM | Permalink | Comments
Stephen T. Asma in the Chronicle of Higher Education:
September 11 changed the God conversation. Atheism was always a reasonable alternative to theological glitches like the problem of evil, and of course God seemed increasingly unnecessary after Darwin's revolution, but atheism was a relatively quiet and confident minority position. Like opera fans who know they're right but don't bother to evangelize the unsophisticated, atheists were generally too imperious to go to the trouble of public debate.
But after 9/11, Christopher Hitchens, Sam Harris, Richard Dawkins, and Daniel Dennett, nicknamed the Four Horsemen of the new atheism, showed us the first wave of atheist response: anger, retaliatory logic, and self-loathing about the failure of flaccid liberalism—our impending cultural suicide from too much naïve tolerance. Pugilistic Islamic fundamentalism was taken as a token for religion generally, and the excesses in this world of otherworldly metaphysics led the Horsemen to call for the end of faith altogether.
Academics slight the essential day-to-day comforts that keep religion, or at least its spiritual secular offshoots, relevant.
Recent books offer a second wave, with political, economic, and philosophical takes on religion and its surrogates. Peter Watson's The Age of Atheists (Simon & Schuster), Terry Eagleton's Culture and the Death of God (Yale University Press), and Roger Scruton's The Soul of the World (Princeton University Press) are much more historically aware, and more comfortable with the persistent ebb and flow of Western religion, than were the Horsemen's admonitions. But in focusing on seductive macrosocial and lofty theological impulses, the new books slight the essential day-to-day comforts that keep religion, or at least its spiritual secular offshoots, relevant. They also largely dismiss the powerful light that science can shed on spiritual longing. They don't miss the forest for the trees; they miss it for the sky above the trees.
More here.


Posted by S. Abbas Raza at 11:07 AM | Permalink | Comments
Morgan Meis in The Smart Set:
Willem de Kooning made a portrait of Marilyn Monroe in 1954. The painting consists of a few splotches of yellow and blue paint. There are two sketchy and lopsided eyes in the middle of the canvas. Two wedges of red surely represent Marilyn's lips. Is that an arm on the right? Maybe. There's a human form in there somewhere. But this isn't a portrait in any way that the Great Masters of European painting would have understood.
You can see de Kooning's painting today at an exhibit in Washington D.C. at the National Portrait Gallery, part of the Smithsonian Institution. The exhibit is called "Face Value: Portraiture in the Age of Abstraction." The point of the exhibit is to display the work of "mid-twentieth century artists who were reinventing portraiture at a moment when almost everyone agreed that figuration was dead as a progressive art form." Thus, de Kooning's offering. He was trying to salvage some aspect of the human figure at a time when realistic looking paintings were not at all in fashion and portrait painting had been relegated to Sears.
It hadn't always been this way. For hundreds of years, a painted portrait was supposed to look like the person it portrayed. Even especially talented and artful portrait painters — like Hans Holbein the Younger (c. 1497-1543) — had to think of portraits primarily in terms of a good likeness. Holbein's portrait of Christina of Denmark (1537) is, for instance, an especially beautiful painting.
More here.


Posted by S. Abbas Raza at 11:00 AM | Permalink | Comments


Posted by S. Abbas Raza at 10:55 AM | Permalink | Comments
Austin Allen at Poetry Magazine:
Thomas's reputation as popular bard—an Orpheus or Taliesin reincarnate—trailed him from his earliest career in Wales. From there, as detailed in Andrew Lycett'sDylan Thomas: A New Life (and Adam Kirsch's fine biographical essay in The New Yorker), he evolved into a proto-rock star. He may well have founded the clichés of the type: the whirlwind American tours, the adoring fans, the orgiastic indulgence, the death in the hotel later made infamous by the likes of Janis Joplin, Sid Vicious, and Leonard Cohen. And, of course, Bob Dylan.

Dylan's adoption of Thomas's name remains an uneasy asterisk over the poet's legacy. Noting the popularity of the name "Dylan," which was once obscure even in Wales, Kirsch concludes that "later Dylans only borrowed its aura of youthful, brooding rebellion; in the most literal sense, Dylan Thomas made his name." True enough—but Paul Simon's '60s satire "A Simple Desultory Philippic" tells the rest of the story:
He's so unhip that when you say "Dylan,"

He thinks you're talking about Dylan Thomas,

Whoever he was.

The man ain't got no culture.
In that sense, Bob Dylan borrowed Thomas's name and never gave it back. 
more here.


Posted by Morgan Meis at 09:55 AM | Permalink | Comments
Seyla Benhabib at Eurozine:
In a well-known passage of The Origins of Totalitarianism, Hannah Arendt wrote: "We become aware of the existence of a right to have rights (and that means to live in a framework where one is judged by one's actions and opinions) and a right to belong to some kind of organized community, only when millions of people emerge who had lost and could not regain these rights because of the new global political situation [...] The right that corresponds to this loss and that was never even mentioned among the human rights cannot be expressed in the categories of the eighteenth-century because they presume that rights spring immediately from the 'nature' of man [...] the right to have rights, or the right of every individual to belong to humanity, should be guaranteed by humanity itself. It is by no means certain whether this is possible."[9] The "right to have rights" has become the well-known phrase through which to capture the plight of the stateless, the refugee, the asylee and displaced persons – that is, the plight of those who have been cast out of the framework "where one is judged by one's actions and opinions."

Throughout this discussion, Arendt polemicizes against the grounding of human rights upon any conception of human nature or history. For her, conceptions of human nature commit the mistake of treating humans as mere substance, as if they were things in nature. But following Augustine and Heidegger, for her humans are the ones for whom the question of being has become a question.
more here.


Posted by Morgan Meis at 09:52 AM | Permalink | Comments
Stefany Anne Golberg at The Smart Set:
The Burning of the World: A Memoir of 1914 is a document of one man's attempt to repaint his broken landscape. It is remarkable how quickly his world was lost. In hindsight, we think of the First World War as a four-year affair. We forget, though, that Austria-Hungary lost half of its men within the first two weeks of the war — 400,000 men, including 100,000 who were taken prisoner by the Russians. At the war's start, the grand Austro-Hungarian soldier, with his long ridiculous sword, was often killed or maimed within days of reaching the battlefield. The injured and insane were sent home to wander their cities like ghosts, to parade before the horrified eyes of their neighbors. And the war kept going on.
The Burning of the World covers only the first eight months of the war, but carries a lifetime of experience. When the book opens, Hungarian painter Béla Zombory-Moldován is enjoying a summer holiday with friends at resort on the Adriatic. By the second page, war has started and Zombory-Moldován must report for duty. Before he sees any action, Zombory-Moldován finds himself in the abandoned, burned-out town of Rava Ruska, musing on its ruined state. By the middle of his memoir, Zombory-Moldován has been sent to the Galician front, been severely injured, and then been sent back to Budapest to recover. The remainder of the book follows his attempt to come to terms with life as a veteran, even though the war goes on, even though it has just started. Within weeks, his Budapest – his Hungary – is already a thing of the past. Béla Zombory-Moldován inhabits the city in a state of limbo. He passes by his favorite cafés but can't bring himself to go in. The young ladies who once admired him now stare at his bloodied head, appalled. When the book ends, Zombory-Moldován reports once again for duty. It is March 1915. World War I still has three years and eight months to go.
more here.


Posted by Morgan Meis at 09:49 AM | Permalink | Comments
Jonah Lehrer in Seed:
In the early 1920s, Niels Bohr was struggling to reimagine the structure of matter. Previous generations of physicists had thought the inner space of an atom looked like a miniature solar system with the atomic nucleus as the sun and the whirring electrons as planets in orbit. This was the classical model. But Bohr had spent time analyzing the radiation emitted by electrons, and he realized that science needed a new metaphor. The behavior of electrons seemed to defy every conventional explanation. As Bohr said, "When it comes to atoms, language can be used only as in poetry." Ordinary words couldn't capture the data. Bohr had long been fascinated by cubist paintings. As the intellectual historian Arthur Miller notes, he later filled his study with abstract still lifes and enjoyed explaining his interpretation of the art to visitors. For Bohr, the allure of cubism was that it shattered the certainty of the object. The art revealed the fissures in everything, turning the solidity of matter into a surreal blur.
Bohr's discerning conviction was that the invisible world of the electron was essentially a cubist world. By 1923, de Broglie had already determined that electrons could exist as either particles or waves. What Bohr maintained was that the form they took depended on how you looked at them. Their very nature was a consequence of our observation. This meant that electrons weren't like little planets at all. Instead, they were like one of Picasso's deconstructed guitars, a blur of brushstrokes that only made sense once you stared at it. The art that looked so strange was actually telling the truth.
More here.


Posted by Azra Raza at 07:15 AM | Permalink | Comments
Stephanie Fairyington in The New York Times:
A few months ago, I was on a Manhattan-bound D train heading to work when a man with a chunky, noisy newspaper got on and sat next to me. As I watched him softly turn the pages of his paper, a chill spread like carbonated bubbles through the back of my head, instantly relaxing me and bringing me to the verge of sweet slumber. It wasn't the first time I'd felt this sensation at the sound of rustling paper — I've experienced it as far back as I can remember. But it suddenly occurred to me that, as a lifelong insomniac, I might be able to put it to use by reproducing the experience digitally whenever sleep refused to come. Under the sheets of my bed that night, I plugged in some earphones, opened the YouTube app on my phone and searched for "Sound of pages." What I discovered stunned me. There were nearly 2.6 million videos depicting a phenomenon called autonomous sensory meridian response, or A.S.M.R., designed to evoke a tingling sensation that travels over the scalp or other parts of the body in response to auditory, olfactory or visual forms of stimulation. The sound of rustling pages, it turns out, is just one of many A.S.M.R. triggers. The most popular stimuli include whispering; tapping or scratching; performing repetitive, mundane tasks like folding towels or sorting baseball cards; and role-playing, where the videographer, usually a breathy woman, softly talks into the camera and pretends to give a haircut, for example, or an eye examination. The videos span 30 minutes on average, but some last more than an hour.
...Dr. Carl W. Bazil, a sleep disorders specialist at Columbia University, says A.S.M.R. videos may provide novel ways to switch off our brains. "People who have insomnia are in a hyper state of arousal," he said. "Behavioral treatments — guided imagery, progressive relaxation, hypnosis and meditation — are meant to try to trick your unconscious into doing what you want it to do. A.S.M.R. videos seem to be a variation on finding ways to shut your brain down."
More here.


Posted by Azra Raza at 06:58 AM | Permalink | Comments
Monday, July 28, 2014
by Grace Boey
When Vladimir Nabokov's Lolita was first published in 1955, the novel generated an enormous amount of controversy. Narrated by Humbert Humbert, a fictional literature professor in his late thirties, the tragicomedy depicts his obsessive sexual relationship with 12-year-old Dolores Haze—the eponymous Lolita.
60 years down the road, the book remains as controversial as ever. A large part of this seems to be that Lolita, despite our moral condemnation of child sex, somehow manages to elicit the reader's sympathy for its pedophilic 'protagonist' (who is, possibly, more accurately described as a hebephile). Beyond our contempt for Humbert, there is also disgust with ourselves. How dare we even think of sympathizing with such a pervert? Surely by doing so we inch closer to condoning sex with children.
Such confusion reflects unresolved thoughts and feelings about sexual deviation in general. What does it mean to sympathize with perversion? Where, exactly, lies the wrong in what many of us think of as sexual deviance—such as pedophilia, zoophilia, homosexuality, and various other unusual forms of sexuality? What specifically is it that's so outrageous about the affair between Humbert and Dolores? To answer such questions, we must delve into the field of sexual ethics.
Sex: the moral minefield

Why is the ethics of sex even a thing? For one, sex is a significant act which plays a big part in an individual's life. How someone practices (or doesn't practice) sex is intertwined with their emotions, relationships, expression and identity. Moreover, sex is an act involving our own bodies that we either wish to participate in, or don't. In deontological terms or rights-speak, there are important rights and potential violations surrounding sex. From a consequentialist perspective, there is the potential for both great harm and utility to arise from sex. All this makes sex something we should tread around pretty carefully.
Continue reading "The Morality of Perversion"


Posted by Grace Boey at 01:00 AM | Permalink | Comments
In the early 1980s wanting to be a naturalist — a coleopterist, in particular, that most Darwin-like of naturalists — I spent a couple of summer months in Killarney National Park, in Ireland, making a collection of chrysomelid beetles. This was the first of many such collecting trips, part of a series of increasingly violent engagements with the natural world that served as stepping stones that link my life as an Irish teen to the one I live now in Chicago. All of them involved the killing of animals or plants for the sake of science.
The Chrysomelidae had been offered up to me by Dr Jimmy O'Connor, an entomology curator at Ireland's Natural History Museum (The Dead Zoo, as it was called in Dublin). Apparently, the Irish representatives of this group were poorly known, not having been taxonomically revised since early in the 20th Century. Chrysomelid beetles include a number of notorious pests such as Leptinotarsa decemlineata, the Colorado Potato beetle, but for the most part these insects go about their business without causing us much bother. They are remarkably pretty though, many of them possessing metallic elytra (the sclerotized outer-wing of the beetle) and when you train your eye to notice them you see them as a marvel of shimmer and vivid color. Some of them, the flea-beetles, have greatly enlarged hind-leg femora, so that when disturbed they erupt into action and spring away from you like a glorious idea that thought you had but now cannot seem to fully recall.
Collecting them is easy enough. Using a sweep net, I thrashed my way across the grassier spots in the National Park; in other locations I'd search the under-leaves of shrubs and low hanging plants, catching them on the tip of a wetted paintbrush.
The issue of killing them was quite another matter. After all, I wanted to collect them because I had conceived a liking for them, and was concerned that if neglected, we, the scientific community, would not know, ironically, if these animals needed more vigorous protection. I loved them enough I suppose to want them dead; a couple of specimens of each species at the very least. I was the Noah of death and my ark was a killing jar.
However, when one sees glamorous creatures such as these looking up at you, as it were, from the bottom of the net, the ethical calculation concerning their dispatch is not an easy one to make. Should these few glimmering Isaacs be sacrificed so that others of their kind might flourish. Or perhaps more proximately, since the question of how data might be used is always somewhat further down the road, should they die so that the storehouse of my knowledge could grow?
Continue reading "Killing Things"


Posted by Liam Heneghan at 12:55 AM | Permalink | Comments
by Akim Reinhardt
In February the word came in. My brother in law had a job offer in Orange County. He and my sister would finally be giving up the little apartment in far northern Manhattan and heading for the West coast.
"Lemme know if I can help," I to told my sister.
"You wanna drive the moving truck across the country with Noah?" she asked.
"Sure, I can do that," I said.
Monday, July 21
With luggage, I make the 20 minute walk to the light rail station. Train shows up, and the ride to the airport is uneventful. Not like last time when I had some drunk fool trying to pick a fight with me at 9:00 in the morning cause he thought I was "gay lookin'" at him. Goin' on about how he did a dime in prison and he'd kick my ass, except he's either about 60 years old or a very rough 50, and already lit, drinking tall boys out of paper bags, so no, he can't actually kick my ass. After not engaging, I finally had to tell him to shut the fuck up already, but that didn't help. Didn't make it worse either. Just kept on prattling his belligerent, drunken shit.
Nothing like that this time. To the airport, all good. Until you walk in to find your flight's been delayed two hours.
After what passes for a nice meal at BWI (decent beer, cured olives, mixed salad with goat cheese; actually, that's a nice meal anywhere), I mosey over to the gate. My gate's jammed, so I go to something a bit emptier. I open up Murdering McKinley by Eric Rauchway, a history prof up at UC Davis. He's a good writer, which isn't a given for a historian.
I mean, just look at this pablum.
About thirty pages in, this terribly annoying extended family sits next to me. Not a decent one in the lot.
I move on to a quieter spot. Then the guy behind me starts slurping the straw of his empty Dunkin' Donuts cup. And he won't stop. On and off for 20 minutes. I look behind me. He's about 50 years old
Truly, there is no sense of decorum left in this country.
Continue reading "Baltimore > Boston > Binghampton > Columbus > Lebanon > Groom > Chamber > Needles > Orange?"


Posted by Akim Reinhardt at 12:50 AM | Permalink | Comments
Jennifer West. Film Quilt, 2013.


Posted by Sughra Raza at 12:45 AM | Permalink | Comments
Breaking the taboo of divorce in largely conservative India. Conceptual image by Sahil Mane Photography.
A Bit of Background
Last year, I put up this status message on Facebook: "Today, the 15th of February, is the 10th anniversary of my first wedding. It's interesting how far both of us, my ex-husband and I, have come since our divorce in 2006. And how different life—lives—would have been if I had stayed. Oh, thank god!"
People have always asked me why I talk about my divorce, including this article featured in Mirrors across India a few weeks after I got remarried two years ago. I have several reasons.
I got married to Shiv when I was 19 and he was 30, back in 2003, when the world was different, I was different. After one failed attempt in July/August, we got separated in December 2005, when I moved to Mumbai, and divorced 10 months later.
First, a caveat. I spoke casually about being divorced much before I got remarried, much before I found love with Sahil. I spoke about it when I was down, devastated and broke; when I was single; to friends and strangers; and at job interviews. I even spoke about considering one the very first time I met a woman who is now a friend—a young divorcee herself, she said (and I remember this vividly), "Are you sure, Tara*? I find now that I am perpetually '<Insert her own name> the Divorcee'." I put that in right upfront, as I realise it could seem convenient to talk about it now, when all has turned out okay. For instance, though there were many years in between, my grandparents didn't tell anyone in Dehradun, the small town in North India in which they live that I was divorced until I got remarried (the veritable 'happy ending').
[I realised this when I had gone for my granddad's 80th birthday celebrations a few years ago, only to be startled by questions of "Shiv kahan hain, beta?" "Aapke husband Indonesia se nahi aa paye?" ("Where is Shiv?" "Your husband wasn't able to come from Indonesia?") That's when I pieced together the story they had been telling, or letting brew, partly grounded in the truth—my ex-husband is, indeed, currently in Indonesia, just with a different wife.]
Because of this, I've been asked this over and over, from the curious as well as the concerned 'what is the need to wash dirty linen is public', I'll tell you why I speak about it.
Continue reading "Public Display of Divorce"


Posted by Tara* Kaushal at 12:40 AM | Permalink | Comments
by Eric Byrd
On Facebook I follow a number of the US Department of the Interior's National Battlefield Parks, National Battle Sites, and Military Parks. In the progress of the Civil War's sesquicentennial each of these sites has had their day in the social media sun, their special anniversary posts with pictures of the commemorative ceremonies. In May and June it was the turn of the parks that memorialize the battles of Grant's Overland Campaign.
In the spring of 1864 Ulysses Grant came east, to personally oversee the destruction of Robert E. Lee's Army of Northern Virginia, the veteran force that had in the previous two years baffled and humiliated every Federal drive on the rebel capitol of Richmond. Though baffled and humiliated – but never demoralized or destroyed, a distinction apparently lost on the aristocratic Lee – the eastern armies of the Union came on in early May and fought continuously for six weeks, chewing and choking "with a bulldog grip," as Lincoln would exhort via telegraph.
By the end of June, when the exhausted armies began to dig in for a long siege of the last rail hub supplying Richmond, Grant had lost 55,000 men and Lee 33,000. About half of each army. Lincoln said Grant was the general who could "face the arithmetic." Meaning he could fight all out, lose half his army while costing Lee half of his, replace his losses just when Lee could not, and then resume the offensive and finish the war. Grant, reflected one of his staff officers, "was assigned one of the most appalling tasks ever intrusted to a commander."
Continue reading "Campaigning with Grant"


Posted by Eric Byrd at 12:35 AM | Permalink | Comments
by Bill Benzon
Timothy Morton. Hyperobjects: Philosophy and Ecology after the End of the World. University of Minnesota Press 2013. 229 pp.
This is a strange book, for it is three. There is the book that is easy to praise for its range of topics – quantum mechanics, La Monte Young, global warming, The Matrix, the Prisoner's Dilemma, for example – and its quasi-virtuoso stylistic versatility. There is, as well, the book that is easy to criticize – though I'm sure some would regard that as too mild a word – for its conceptual instabilities, lapses in logic, and misreading of science.
And there is another book, the one leaking out of the cracks and pores in the first two.  That book has the scattered beginnings of a framework in which we can construct a viable approach to the future. That's the book I'm writing about, making this essay as much an interpretation of as a review of Morton's fine Hyperobjects.
Hyperobjects and Objects
Hyperobjects are "things that are massively distributed in time and space relative to humans" (p. 1). What isn't a hyperobject is an object. Kumquats, automobiles, palm trees, squids, geosynchronous satellites, Olympic records, a promise, a rooster's crow, these are all objects in the philosophical sense of the word. In the first paragraph of the book Morton lists these examples: the Lago Agrio oil field, Florida Everglades, the biosphere, the Solar System, "the sum total of all the nuclear materials on Earth; or just the plutonium, or the uranium," Styrofoam, plastic bags, or "the sum of all the whirring machinery of capitalism."
The philosophical sense of object is not quite the same as the ordinary sense, which tends toward physical things that are neither very large nor very small. Roughly speaking, for Morton and proponents of other object oriented ontology (OOO) – a recent school of Continental philosophy – anything that can be designated by a noun or a noun phrase is an object. Anything. Including, of course hyperobjects.
Continue reading "Sing Me a Song of Hyperobjects: Starting over with Humans and Other Creatures in the 21st Century CE"


Posted by Bill Benzon at 12:30 AM | Permalink | Comments
by Brooks Riley